Sara Ramirez wore the exclusive "Be United for Kindness, Acceptance, and Inclusion" T-shirt at LOSERVILLE premiere
October 7, 2016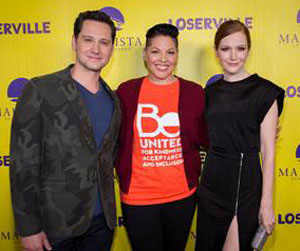 Loserville takes place during Chuck MacDonald's (Chris Bellant) senior year in high school, which isn't living up to even his limited expectations. He is humiliated because his mom Evelyn (Stanchfield) is dating his gym teacher, Coach Casey Harris (McGorry). His true love, Melissa (Natalie Hall), barely acknowledges his existence. And his plan to win Melissa over by befriending her sister, Mary (Sarah Jes Austell) gets complicated by bullying that's the talk of the school.
"It is a really unique take on the teen movie genre, and it's full of laughter," Ramirez tells Parade.com of the film that marks her producing debut. "It's very funny, and while it's full of laughs, it's also tackling really important issues like bullying, identity, and self-expression faced by teens today. I think it really will resonate, and it's a very inclusive cast, I'm proud to say, and so I'm just really excited about it."
Loserville, currently in theaters and available on VOD, in partnership with PACER's National Bullying Prevention Center, will celebrate the 10th anniversary of National Bullying Prevention Month this October.
See the full article in Parade | Order the shirt
---