PACER's NBPC invited to opening of Instagram #KindComments mural
October 16, 2017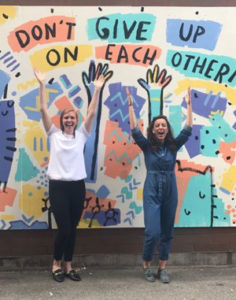 Instagram unveiled a colorful custom-designed #KindComments mural by renowned artist Dallas Clayton (@DallasClayton) on Oct. 5 at the TOMS store in Chicago's Wicker Park. The mural opening celebrated Chicago community members of all ages who are making the world a kinder place.
Guests heard from inspiring Chicago community members, Instagrammers who are using the platform to build communities of support, as well as Bailey Lindgren, associate at PACER's National Bullying Prevention Center. (Lindgren is pictured at left, with Carolyn Merrell from Instagram.)
#KindComments is a global initiative to promote and foster positive engagement online. By transforming walls into colorful beacons of kindness, Instagram hopes to create positive spaces for people to gather in real life and encourage visitors to take a photo or video in front of the wall and share #KindComments on (and off) Instagram.
Murals inspiring #KindComments will also be launched in New York, Dallas, Washington D.C., Mexico City, Jakarta, Tokyo, and Mumbai, among other cities.
Download "Instagram Safety Tips" created by Instagram and PACER's National Bullying Prevention Center.
---