Clarisonic Joins the Bullying Prevention Cause by Supporting PACER's National Bullying Prevention Center
February 1, 2017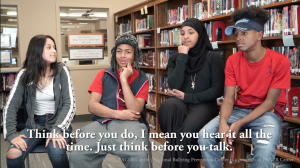 Clarisonic, the creator of the most recommended skin cleansing devices by U.S. dermatologists, was founded with the belief that healthy, beautiful-looking skin can help people be their most confident selves.
In an effort to help address bullying, Clarisonic has made a commitment to support PACER's National Bullying Prevention Center – encouraging young people to love the skin they're in, and to be confident advocates for themselves and others.
"PACER has made an incredible impact on countless kids across the country and all of us at Clarisonic are thrilled to help support its remarkable bullying prevention programs," said Dr. Robb Akridge, co-founder of Clarisonic.
Paula Goldberg, Executive Director of PACER Center shared, "The support of Clarisonic is appreciated as it allows the opportunity to reach out to a broader audience with the important message of what all of us can do to help prevent bullying."
The relationship between Clarisonic and PACER's National Bullying Prevention Center will kick off with the Students with Solutions campaign in early 2017, which engages students to use art and writing to creatively think through ways to prevent bullying and be supportive of peers being bullied. In addition, the relationship will focus on other initiatives designed to educate and provide students with information and resources to build a culture defined by kindness, acceptance, and inclusion.
---